Conference Rooms

The Lee Suite

Every organisation needs a little extra space from time to time; a space to come together in comfort, somewhere that inspires action and creativity. The Lee Suite is our largest conference room and offers guests the perfect blend of functionality and inspiration.

An exceptionally spacious, airy and light-filled meeting room, equipped with high-end, modern connective facilities, the Lee Suite has the capacity to host up to 320 delegates' theatre style or 220 delegates seated in a classroom-like arrangement. Additionally, this lovely room comes with its own bar, private bathrooms and an adjacent patio area, making it not only the ideal venue for business events but also perfect for gala dinners, award ceremonies and social gatherings.

Seats 320 delegates' theatre style
Seats 220 delegates' classroom style
Seats 300 guests for a gala dinner
Natural daylight
UAV screen, Projector, Stage & Podium
Electric Screens
Satellite Television
Air Conditioning
Fixed & roving microphones
High speed WIFI
Private bar
Direct access to hotel loading bay
Complimentary onsite car parking
Private bathrooms

Kerry Suite

For delegations of up to 150 people, The Kerry Suite is simply ideal. With its large, ceiling-height windows, carpeted floors and pleasing aesthetic, The Kerry Suite provides a comfortable and flexible space capable of hosting high-tech, interconnected conferences and business meetings but equally suitable as an exhibition/display/demonstration area or refreshment lounge for larger conferences being held in the Lee Suite.

150 delegates theatre style
96 delegates classroom style
Floor to ceiling windows
State of the art equipment including - AV, Screen, Projector, Stage & Podium
Electric screen
Satellite television
Air conditioning
Fixed & roving microphones
High speed WIFI
Complimentary onsite car parking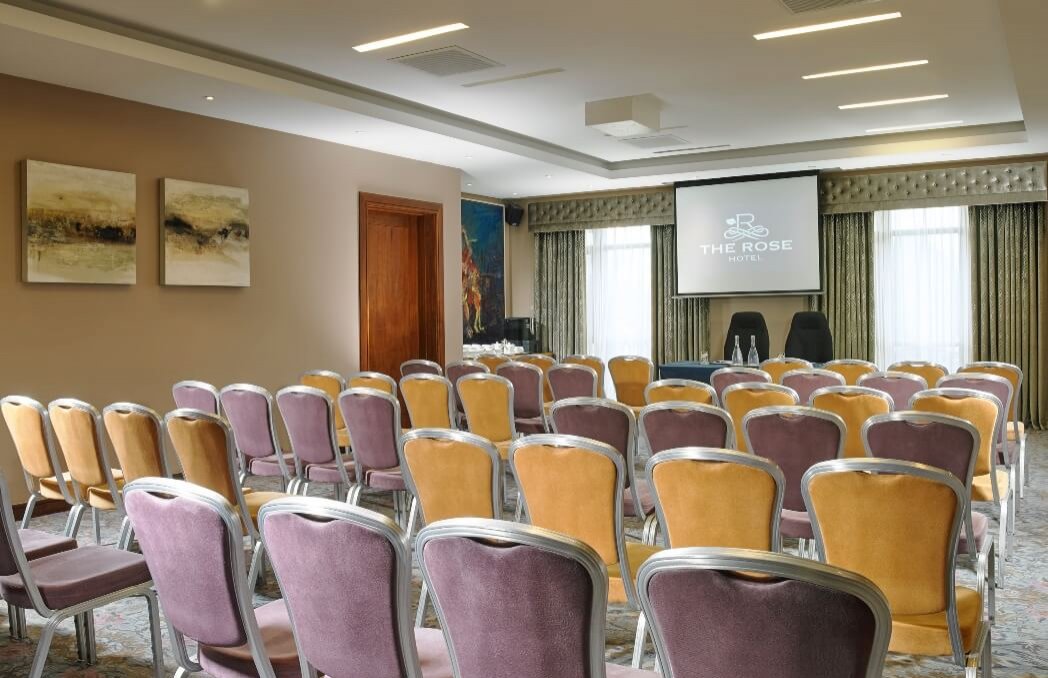 Conference Rooms Floor Plans
View our conference rooms in various setups for your event.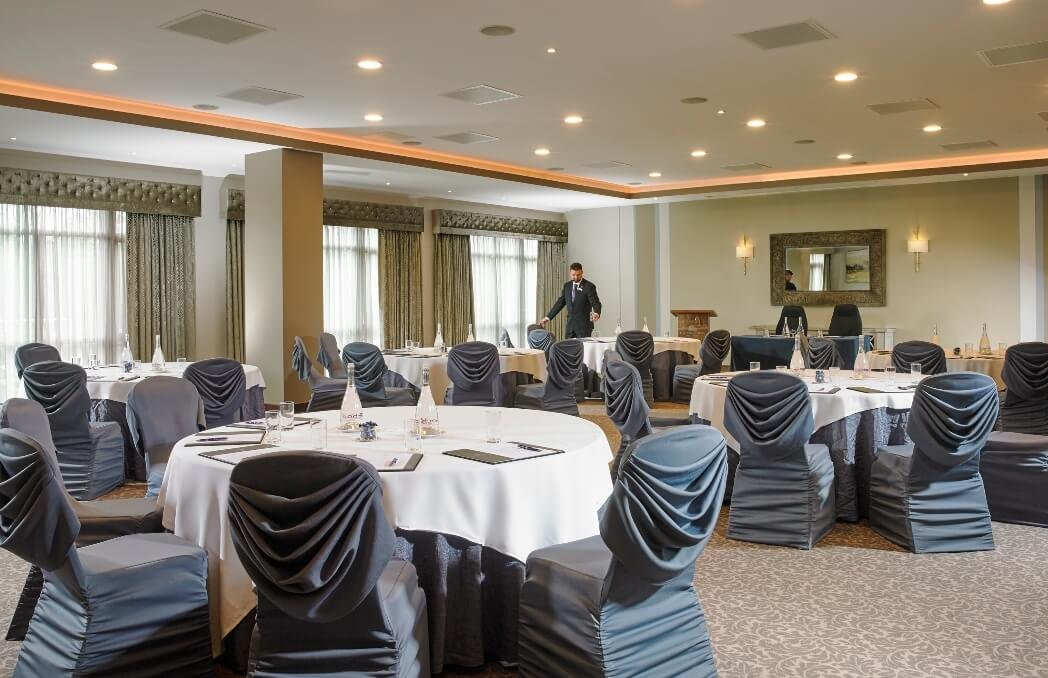 Fact Sheet
View our Fact Sheet for more details.

Testimonials
The service at The Rose Hotel was exceptional. There was absolutely no issue that was not addressed timely and with satisfactory results. The hospitality in this hotel has been nothing short of Excellent. The rooms are spacious, clean and super comfortable. The banquet staff were extremely attentive to every detail and very professional. Overall the meeting went great, and everyone's palette was satisfied with the Amazing food. Thanks again for all your help, and I am sure our group will be back again.
The Rose Hotel helped create something special for us with the eCommerce Summit. There were the human elements, Aisling and Madeleine so easy to deal with and they shared in the vision and managed the risk for a start-up conference, without putting me under any stress. They planned for the things I knew nothing about. The venue itself helped create a mini cocoon for a group of tech professionals from across Europe where they networked, shared stories and made friends with ease. The hotel left a lasting impression with our guests and they are already making plans for their trip in 2020. As a team we were grateful to the entire Rose team for treating us as their own and for the hospitality before and since. We are confident with their support we can develop our conference into the best of its kind in Europe